The Learning Program Online™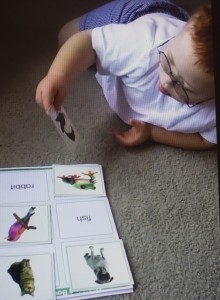 The Learning Program is an educational program committed to helping children with Down syndrome succeed. A nationally-recognized model for parent-focused educational intervention developed by the Down Syndrome Foundation of Orange County, California (DSF), this program is grounded on evidence-based approaches to teaching children with Down syndrome developed by world-recognized leaders in Down syndrome education.
The Learning Program Online (LPOnline™) trains parents to supplement the student's education via monthly online webinar based programs. Because DSACO provides services for a very large geographic area, this program was identified as a means to serve families and educators no matter where they reside in the 23 counties DSACO serves. We hope to have participants from many counties.
This program consists of ten monthly sessions. Participants will receive access to the monthly recordings, which are accessible for playback after the event, if participants are not able to attend the live session.  Additionally, participants would have access to a shared Wiki with all the resources accompanying the presentation.
Supplemental materials would also be included in a typical month. These materials would change depending on the topic/focus for that month but would normally include a research component, an instructional piece, a teaching guide, and literacy and math materials for the month.
If you are interested in learning more about this program, visit The Down Syndrome Foundation of Orange County's website.