The Learning Program Online™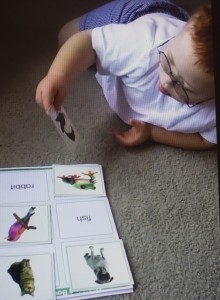 ** Don't miss out on our Learning Program Launch Party, where you can connect with previous participants and learn how to navigate the program! Mark your calendar for Wednesday, August 9th from 6:30-8:30 pm. The party will be held at the DSACO Office.  RSVP to Rachel Berens at rberens@dsaco.net. Registration details for the 2017-2018 program coming soon **
Education is so important to our children and parents often ask what they can do to help their child learn at home. After a successful pilot, DSACO is expanding the Learning Program Online™ to include Levels 1 and 2 and to extend to a full ten months of learning opportunities for your student (September-June).
The Learning Program is an educational program committed to helping children with Down syndrome succeed. A nationally-recognized model for parent-focused educational intervention developed by the Down Syndrome Foundation of Orange County, California (DSF), this program is grounded on evidence-based approaches to teaching children with Down syndrome developed by world-recognized leaders in Down syndrome education.
The Learning Program Online (LPOnline™) trains parents to supplement the student's education via monthly online webinar based programs. Because DSACO provides services for a very large geographic area, this program was identified as a means to serve families and educators no matter where they reside in the 23 counties DSACO serves. We hope to have participants from many counties.
This program consists of ten monthly sessions. Participants will receive access to the monthly recordings, which are accessible for playback after the event, if participants are not able to attend the live session.  Additionally, participants would have access to a shared Wiki with all the resources accompanying the presentation.
Supplemental materials would also be included in a typical month. These materials would change depending on the topic/focus for that month but would normally include a research component, an instructional piece, a teaching guide, and literacy and math materials for the month.
*IMPORTANT: This program is offered at Levels 1 and 2. Please note that your child's level will be determined by their developmental level, not necessarily their age. The general recommendation is that Level 1 is most appropriate for learners ages 3-6 and Level 2 is better suited for learners ages 7-10.
Registrants may individually view the sessions from home at their convenience. If you prefer to watch with other participants and a facilitator for additional support and conversation, group viewing dates are available.
Click here to see the Learning Program Online in action. Go Joey!
If you are interested in learning more about this program or would like more information about upcoming opportunities for participation, please contact rberens@dsaco.net.