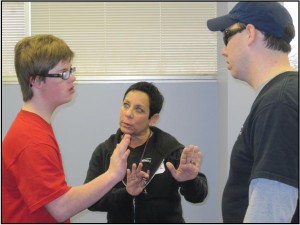 Saturday, February 10 | 9:00 – 11:30 a.m.
DSACO office | Fee: $10
Open to persons 14+. Space is limited to 14 participants.
IMPACT Safety has a history of successfully teaching personal safety and self-protection skills to people with cognitive, physical, or emotional disabilities. Through IMPACT workshops, teens and adults are offered a safe and secure environment for "learning by doing" through role-play and positive examples. The workshops are taught by an instructor team that is trained and skilled in working with people of all ages and abilities. DSACO has offered this workshop in the past and believes it to be an important tool for all of our teens and adults as they navigate the transition of living and working in the community. Feedback from previous participants has been overwhelmingly positive.
Click here to register.
 If the cost of attending this program would cause financial hardship, please click here to request your fee waived.