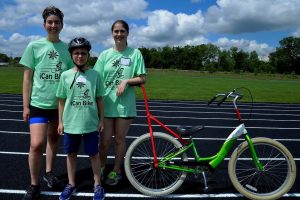 Camp Dates for 2018 are: 
June 4th – 8th (Worthington Kilbourne High School Camp)
June 11th – 15th (Grove City High School Recreation Center) 
Did you catch our feature on the news? Click here to see what our 2017 camp was all about!
Biking is more than just exercise and transportation:  it's a social activity of connection, a childhood rite of passage and a first taste of independence. Transforming biking into an inclusive activity is the mission of iCanBike, a national organization that conducts bike camps for individuals with special needs. This unique approach has enabled thousands of people, with a variety of disabilities, to become independent bicycle riders.The Down Syndrome Association of Central Ohio, in collaboration with Nationwide Children's Hospital and Autism Society of Central Ohio, is hosting our 10th iCanBike Camp.
Each participant takes part in a 75 minute session between the hours of 8:15 am to 4:30 pm.
Requirements
Participants must be at least 8 years old, have a developmental disability, and should have a minimum inseam of 20″, be able to walk without an assistive device, weigh no more than 220 lbs and must wear a properly fitted helmet. A parent, guardian or other caregiver is expected to participate in various ways throughout the week. Scholarships are available through DSACO for individuals with a diagnosis of Down syndrome. Contact us for details.
There are a limited number of scholarships available through the Autism Society of Central Ohio. Contact centralohioasa@gmail.com to request a scholarship form for this event.  The individual must have a diagnosis of autism to request a scholarship.
Application
Because camp is limited to 40 participants, campers are selected based on timely completion of application AND likelihood to succeed in camp.  A 100% refund will be issued to any applicant who is not selected to participate in camp.
Camper Registration
Please note that registration is a two part process. In order for your registration to be considered complete, you must fill out all required fields on the application AND submit payment. Registration for the 2018 Bike Camps is now OPEN:
Fill out our survey monkey application HERE.
Submit payment HERE. 
Volunteer
Anyone interested in volunteering for the event must be at least 15 years old and physically able to walk/run alongside the participant as they master the skill of riding a bicycle. Volunteers must be able to commit 75 minutes a day for the week and attend a training session prior to the start of camp.
To be a volunteer at our Worthington Kilbourne Camp, click HERE. Questions about volunteering in Worthington? Contact Armando, Worthington Volunteer Coordinator at: armandoprince99@yahoo.com
To be a volunteer at our Grove City Camp, click HERE. Questions about volunteering at the Grove City Camp can be directed to Rachel at rberens@dsaco.net.
Any questions regarding iCanBike can be directed to Rachel Berens.  For more information, please email Rachel at rberens@dsaco.net.
View Our Videos!
Check out this video from Thornton Media Arts for our 2017 Grove City Bike Camp!
Interested in volunteering but want to see what that looks like? Check out our volunteer recruitment video.
Ready for a blast from the past? Check out this video from back when camp was referred to as "Lose the Training Wheels."
---
Special Thanks to Our 2018 Gold Sponsors