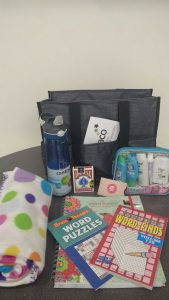 Our Care Packages are sent as outreach to individuals with Down syndrome who are in the hospital for an extended period of time. These packages typically include a blanket, a book or magazine, a deck of playing cards, and a gift card– all things to help make your stay a bit more comfortable and to let you know that your friends at DSACO are thinking about you! In addition to the gifts, we also include some information about how DSACO can be a resource.
Are you or someone you know interested in receiving a Care Package?
Please let us know and we would be happy to send one to you!
Email us at info@dsaco.net.