2018 DSACO Calendar Photography Sessions Information: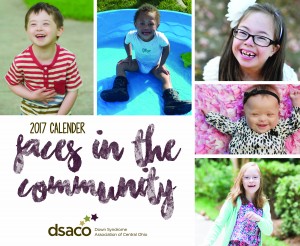 DSACO has partnered with more than 15 local photographers, across Central Ohio and surrounding counties, to offer DSACO families FREE Photography Sessions. 
The photos will be donated to DSACO to be used in the 2018 Faces in the Community calendar, plus families will have the opportunity to purchase the rights to the prints from the photographer.
Below you will find a list of generous photographers who are offering to donate their time for these sessions. Please reach out to the photographer of your choice to schedule your free session by July 31st (DEADLINE HAS BEEN EXTENDED). Please be sure to mention the Down Syndrome Association of Central Ohio when booking. 
*IMPORTANT – all families who choose to schedule a free sessions, must sign a photography release – so the photos can be used in the calendar. Thank you!
---
Photographers:
Hilliard/Dublin area
LINDSAY TACKETT
Contact: lindstackett@gmail.com
Website: www.facebook.com/lindseytackettphotography
---
German Village/Westerville/Delaware/Marion/Gahanna areas
SIERRA LUST
Contact: sierralust@yahoo.com | 740-360-9374
Website: http://sierralust.wixsite.com/photography
---
Lancaster/Canal Winchester/Lithopolis/Groveport/Bexley/Columbus/Gahanna areas
TASHA FOWLER
Contact: mrstashafowler@gmail.com | 614-746-2272
Website: https://facebook.com/TashaFowlerPhotography
---
Pickerington area
MICHELLE LEASOR
Contact: euph110@msn.com | 614-390-1207
---
Pickerington area
COURTNEY FROST
Contact: bcfrost816@yahoo.com
---
Franklin County
AMY ADKINS
Contact: amyadkins10@gmail.com | 567-377-1924
________
ERIKA FANTA
Contact: erikabrookephotography@gmail.com | 614-419-5608
Website: www.erikabrookephotography.com
________
LESLIE LOWE – ZULILY
Contact: llowe@zulily.com & cscott@zulily.com | 336-447-8190
---
Mansfield/Marion area
AMANDA JAVENS
Contact: ajavensphoto@gmail.com | 419-545-6049
---
Guernsey County
SARAH BROWN
Contact: sarahbrown125@gmail.com | 740-260-0057
Website: https://www.facebook.com/Brown-Towne-Photography-178155372360495
---
Athens County
MADISON BAUMER
Contact: maddiebaumer@yahoo.com | 614-557-3806
---
Licking County
JAELA WOLLENBURG
Contact: jaelamariephotography@gmail.com | 740-814-0727
Website: www.facebook.com/jaelamariephotography
---
Cincinnati/Columbus
CHELSEY BARHORST
Contact: Chelseybarhorst@gmail.com  | 513-407-1898
Website: http://chelseybarhorstphotography.com
---
Shelby County (Russia, Ohio)
CHELSEA HOYING
Contact: chelsea81002@hotmail.com
Website: https://www.facebook.com/Moms-Gonna-Snap-Photography-210038925828045/
---
*Families are still able to send photos in to DSACO to be used in the calendar. If you'd like to send photos in, rather than take advantage of free photography session – please send in NO MORE THAN TWO (2) HIGH RESOLUTION PHOTOS to Evanthia Brillhart at ebrillhart@dsaco.net by July 31st.